A Spirit of Service
Thanks to the vision of our founders and many volunteers, we established the first chapter of the Ireland Network and created a set of bylaws that helped guide the creation of chapters across the nation. As our organization evolves, so too does our corporate governance and how we work together to serve our members and the larger Irish community. Today, we are proud to have an Executive Committee, Advisory Board and Executive Director who work closely to deliver on our mission and deepen our impact and influence.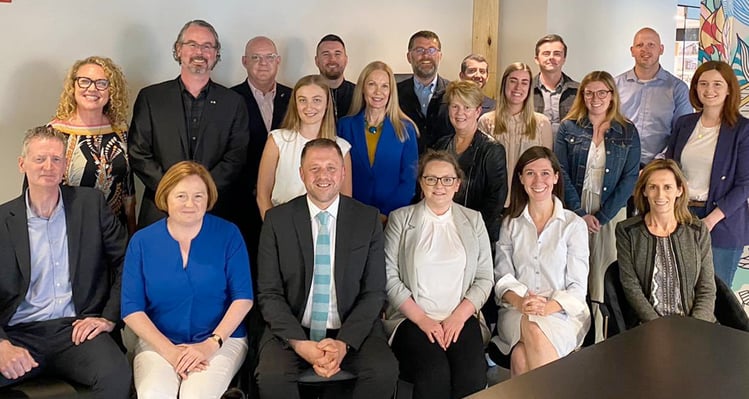 Executive Committee
Our volunteer-based Committee fulfills the mission by ensuring the delivery of regular and varied events and activities of specific interest to members from a business and social perspective. The Committee also provides tools for interactive communication and direct sharing of resources between members and collaborates with organizations whose goals complement the INC mission. Committee members are voted in by our membership for 1-year terms.
Ruairí Barnwell, President

Ruairi has lived in Chicago for over 20 years, but hails from Tullamore in the heart of Ireland. Ruairi graduated from Dublin Institute of Technology, Bolton Street, with a degree in Engineering. Today he is a Principal at global design firm, DLR Group, where he leads the smart building design practice. Outside of work, Ruairi enjoys spending time with his wife Andrea, and three daughters Bella, Catelin and Maeve, who each share his passion for soccer and traditional Irish music. He travels annually to the All-Ireland Fleadh Cheoil to support his daughters' adventures with the Murphy Roche Irish Music School.
Nora Walsh, Treasurer

A native of Dublin, Nora moved to Chicago before enrolling at Loyola University to earn a degree in Computer Science. She works in Financial Services as a Vice President at Gas N Wash.

Nora is a Board Member for Weish4Ever: The Andrew Weishar Foundation

,

a nonprofit that supports teens and young adults battling cancer.

Why IN Chicago? Nora is delighted to be part of this dynamic group that provides a terrific platform upon which to build professional, social and philanthropic connections with other Chicagoans who hold Ireland near and dear to their hearts.
Dede Simon, Secretary

Dede's career has involved working with C-Suite executives in the Chicagoland corporate, non-profit, or even the international world. She was responsible for the 164 board directors as VP and Board relations for the Chicagoland Chamber, President of the Notre Dame Club of Chicago and now in between times volunteers her time with the Ireland Network group, parish council for Holy Name Cathedral and is an office assistant for the Ronald McDonald House Charities located on Grand Ave. She also opened up the Midwest region for a German extruded building product company called Resysta working with architects, prior to being the Deputy Director for Businesses for our state government. Dede is proficient working with C-Suite industry leaders, and currently is in the HR solution human capital world for businesses with Insperity.

She is most proud and humbled by the success of her three grown children. She relishes being a fun grandmother with her six grandchildren. She enjoys her dual Irish/American citizenship, and looks forward to returning soon to her grandparents homeland when Notre Dame plays Navy in 2023.
Jerry Bransfield

Jerry helps people (businesses and individuals) replace the Geek Squad in their lives. He assists with purchasing computers; transferring data from old to new computers (Mac/Windows); training people how to use software, iPad and mobile phones; setting up new offices with computer hardware and printers, telephones (VoIP), and wifi access; and answering any number of tech support questions.



Jerry has a Bachelor of Science in Computer Science from Loyola University and a Master's in Science Information from DePaul University.
Ellen Convery

Originally from Crossgar, Co. Down, Ellen moved to Chicago in 2021 after graduating from Queens University Belfast with degrees in Food Science and Marketing. Ellen is working as a digital marketer for Daniels Health, leading the digital optimization efforts at the company.

Ellen spent most of her summers growing up in Donegal learning the Irish Language, and more recently she has picked up Irish classes in her spare time.

Ellen first joined the network in 2019 when she worked in the city as an Intern. This is her first year on the Executive Committee and she is looking forward to growing the Ireland Network community.
Rory Convery

From Belfast, Co. Antrim with family ties to Co. Derry and Co. Fermanagh, Rory grew up in Dubai, U.A.E. He moved to the U.S. in 2009 to attend the University of Notre Dame before moving to Chicago in 2013 to attend Loyola University Chicago School of Law. A member of the Ireland Network since 2013, he joined the Committee in 2020. He is an attorney in the General Counsel's Office of RSM US LLP. A rugby man, Rory played for the University of Notre Dame and continues to spend his summers playing for their alumni 7's team the Krakens. Rory frequently travels back to Ireland to spend time with his family and attend Ireland and Ulster rugby matches.
Niamh Finn

Niamh is an Activation Marketing Manager at Kerry, a global company focused on the creation of taste and nutrition solutions for the food, beverage and pharmaceutical markets. In her role, Niamh works cross-functionally among teams to support customers and business development within the Foodservice and Convenience channels.

Originally from Meath, Niamh moved to Chicago in 2017 where she worked as the Marketing Manager at CoreFX Ingredients. During her 4 years at CoreFX, she worked to build and grow the Marketing department from the ground up and was directly involved in the implementation and execution of company strategy to deliver on goals of creating brand awareness and supporting sales growth.

Niamh graduated from UCD with a bachelor's in Commerce International and Chinese and has since completed her Master's degree in Global Business Development from DIT. She also holds a teaching diploma in Speech, Drama and Oral Communication from the University of West London.

In her spare time, she enjoys going for runs along the lake, playing Gaelic football with the Aisling Gaels, trying new bars and restaurants in the city and travelling to new places across the US.
Meghan Lee

Meghan is a graphic designer with more than 20 years experience, and brings a well-rounded and strategic approach to branding. She has created marketing collateral for B2B and B2C clients such as the YMCA of Metropolitan Chicago, Vaughan Hospitality Group and the Chicagoland Chamber of Commerce, as well as financial services, real estate, and healthcare industries. Meghan's branding expertise is executed in projects such as logo design, identity development, brochures, advertising, direct mail, newsletters and website design. Meghan is an independent contractor and available for networking and accepting new clients.

Meghan has been on the Ireland Network committee since 2021, focusing on branding development and membership growth. She has been involved with the Irish-American non-profit community in Chicago since 1998 in a variety of roles: Fundraiser for Old St. Patrick's Church, President of the Young Irish Fellowship Club, Volunteer and Graphic Designer for the Irish American Heritage Center, Graphic Designer for the Irish Fellowship Club, Steering Committee and Gala Chair for The Ireland Funds-Chicago Young Leaders, and Graphic Designer for Ireland Network. She is passionate about donating her time and talent to organizations whose missions align with her values, and about making long-lasting connections with people in the Irish-American community of Chicago. She looks forward to making even more connections as part of the committee!
Fiona McDonnell

Originally from Limerick, Fiona first moved to the US in 2019 to complete an MS in Technology Entrepreneurship at the University of Notre Dame. While at Notre Dame, she interned as a Market Analyst at the University's Center for Innovation, focusing on de-risking new technologies and carrying out market analysis. Fiona now works as a Product Marketing Manager at Telnyx, a growing cloud communications platform based out of Chicago, where she works to develop GTM strategies for new products.

Since moving to Chicago in mid-2020 Fiona has loved getting to know the city and fellow Irish in Chicago. When not working, she enjoys spending lots of time by the lakefront, going to basketball and football games, and comedy nights around the city. She is excited to contribute to the Irish community in Chicago by working with the Executive Committee to help spread the word about all the events and connections made possible by the INC!
Joe McKittrick

Joe currently works for Citibank as one of their four Senior Relationship Managers for the Chicago market. With over 25 years extensive experience in the financial sector, including Commercial Treasury, Credit, Corporate Trust & Asset Mgt, Joe has still found time to raise two wonderful kids, play golf and currently follows his passion of Cryptocurrency by sitting on the board of a Canadian Blockchain project. Finally, having being one of the Founding directors of the Ireland Network Chicago, Joe is very excited to be part of the committee again and looks forward to taking the IN Chicago to the next level!
Maggie McEldowney

Maggie is a National Sales Manager at McCormick Place, the largest convention center in North America. She takes pride in the multi-billion dollar economic impact her team has in welcoming convention and tradeshow business to Chicago. She attended the University of Illinois as a Chick Evans Scholar, after caddying at Ridge Country Club on the South Side. Maggie is a proud Beverly native, with Irish roots in Maghera, Co. Derry. Her professional career began in Development, but while representing Chicago on an international platform as the 2016 Rose of Tralee, she developed a passion for promoting tourism in her hometown. Maggie was a Board Member of the Young Irish Fellowship Club, acting as Vice President of Charity, before becoming a member of the Ireland Network. She is also a Board Member of the Mulliganeers, a non-profit organization dedicated to raising funds for children and families in need. She is honored to join this remarkable committee, and looks forward to supporting the mission of the Ireland Network Chicago.
Sheila McNamara

Sheila is a Vice President, Senior Consultant, Investment Risk & Analytics at Northern Trust. She is focused on consulting services for investment managers by reviewing, monitoring performance, exposure, attribution, and allocation results relative to benchmarks and peer comparisons. Sheila has over 11 years of investment experience in the financial service industry specializing in asset allocation, performance, private equity, research, commercial, valuation, credit risk and analytics.

Sheila is a Cum Laude graduate of Lake Forest College. She has a Bachelor's in Business and was Captain of the Women's Golf Team. She was also a 3-time National Handball Champion at Lake Forest College. She has an MBA in Finance from Saint Xavier University. Sheila joined IN Chicago several years ago through the Rose of Tralee organization. Her parents are from Valentia Island, Co. Kerry and Lettermore, Co. Galway. She enjoys visiting family and friends in Ireland annually. Sheila has played Camogie with Saint Mary's and Gaelic Football with the Erin Rover's and is very involved in Gaelic Park and is well connected to the Irish community in Chicago.
Brighde Mulholland

Brighde is a Senior Kdb Developer with KX, based in Newry, Northern Ireland, which is a data analysis software developer and vendor. She joined the company 7 years ago after graduating from Queens in Belfast with a bachelor in Maths with Statistics and has previously worked in London, Dublin, Newry and Singapore.



Brighde first spent time in the US as part of the British Council's "Study USA" programme and studied at the College of St Benedict in Central Minnesota for a year in 2013. She returned to Chicago for a short-term project with work in 2019 and left in early March 2020, not realising at the time it would be 2 years before she would be back.



Originally from Rostrevor in Co. Down, Brighde is glad to be back in Chicago working with the Chicago Mercantile Exchange and is looking forward to her first year on the Executive Committee.
Nick Mulvaney

Born and raised in Dublin, Ireland, Nick has been stateside for just over 20 years and has been involved in all levels of soccer. As Nick cultivated a coaching career throughout his playing years between Ireland, England, and the US, his true passion was to create a soccer organization that empowered youth and adults through sport. This became a reality in 2011 when Nick settled in his second stint in Chicago and founded the ever evolving Chicago City Soccer Club in 2013.

It was important to Nick to provide an organization that not only elevated the level of soccer in the region but also supported young students athletes on and off the field as they navigate through high school and college.

Chicago City quickly became a trailblazer within the industry becoming the first and only of many new opportunities for not only players, but coaches too. Some of these great achievements included bringing the USL Super Y, USL Academy, USL Women's & Mens's Pre Professional programs to downtown Chicago along with an exciting International partnership with Category 1 Academy, Wolverhampton Wanderers.

As Nick prepares for the next chapter with Chicago City he has become a selected candidate for the GIS/VSI MSc in Sporting Directorship which is the first North American course launched in 2022.
Philip Nelson

Philip Nelson is an Account Manager at REB Storage Systems International, which is a material handling systems integrator based in Chicago, with a satellite office in Dublin, Ireland.

Phil specializes in distribution center pick module & storage system design for clients in the USA and Europe. Phil also has a keen interest in creating operational efficiencies including streamlining internal processes, as well as developing and training on new procedures.

Phil immigrated to Chicago from Antrim, Northern Ireland, on St Patrick's Day 2016, with his wife Rachel. From high school, he has had a keen interest in rugby, and while in Chicago, has continued his support of the IRFU at local Irish pubs and Soldier Field when on tour. Phil is currently enjoying settling into suburban life after moving from the City to Lombard in late 2021 following the arrival of his daughter, Ella.
Dan O'Brien

Dan is an Emergency Room Physician & Medical Director for SCP Health, with deep Irish roots from Ennis, County Clare. He is passionate about Irish history, Chicago Irish history & travel. He resides in Oak Park with his wife Bethany & son Edward, and is an active member of St Giles Parish. He is a graduate & prior Chief Resident at the University of Illinois School of Medicine. He has held various teaching and administrative roles over his years in practice. He is the owner of an area commercial real estate business. He enjoys golfing, listening to live Irish Music, and being a Dad.
Cahir O'Doherty

Cahir O'Doherty is a native of Derry, Ireland. Immigrated to Chicago via London in 2016. Cahir is the director of digital marketing & strategy for Ricoh, and is responsible for managing full web development including eCommerce across North America.

Cahir gained his Bachelors (with Hons) degree from the University of Liverpool and has a Masters in Science from the University of Ulster. He is married to Meghan (nee Condon), a Beverly native and they have three children, Declan (4), Cormac (2), and Eamon (0).
Craig O'Halloran

Craig is a Studio Leader and Design Manager at the worlds largest Architecture and Design firm, Gensler. There he comanages a studio of 35 team members made up of architects, interior designers, and brand designers. Craig's work has taken him all over the world, with the repositioning of the Willis Tower here in Chicago a standout project for him. He is currently managing a corporate campus renovation and extension in suburbs of Chicago, along with multiple new US office locations for a client in professional services industry.

Hailing from Dublin and a DIT Bolton Street alum, Craig arrived in Chicago in 2016 via London. He has set up camp in Lincoln Park with the Galway Arms being his local. You will find him playing and watching anything sport related, while trying all the new restaurants across the city.
Jackie Theodore

Jackie is a Senior Project Manager with Cushman & Wakefield on the Bank of America account managing projects in the retail renovation department. She has more than 15 years of experience managing complex building types, including retail renovations, movie theater renovations, education facilities, high-rise commercial, senior living facilities, public sector

outdoor environments and transportation.

Jackie was a Board Member and a Forever Green Chair for Young Irish Fellowship for many years and has been a volunteer for Catholic Charities. She is excited to join this organization that strives to bring professionals together while supporting Irish culture!
Miriam Wallace

Miriam is a global Human Resources executive and a native of County Kerry who lived in London, Dublin and Chicago and spent over 15 years working across the United States, Europe and Asia Pacific while employed at Accenture and Jim Beam Suntory Brands. In recent years, Miriam has partnered with management at local non-profit senior living and hospice organizations to lead talent management initiatives to support growth strategies. While Miriam considers Chicago as "home" she does travel back regularly to Ireland to be with family and can also be found enjoying life by the Atlantic ocean in South Carolina. Miriam takes personal pride in coaching job seekers and recent immigrants with resume/interview preparation and ongoing career mentorship. While Miriam lives on the northside she enjoys a White Sox game and is a big Blackhawks fan!
Advisory Board
Our volunteer-based Advisory Board promotes our mission and ensures a long-term strategic vision for INC. Members include current INC officers, past Presidents, Consulate officers, leaders in Chicagoland business, political, cultural, academic and non-profit communities, as well as leaders within and outside the Chicago Irish community. Advisory Board members are nominated and approved internally for 2-year terms.
Orla Castanien

Orla is an executive coach and leadership consultant passionate about empowering leaders to maximize performance, achieve results and bring more of who they truly are to their careers. Twenty years of leadership in finance, operations and strategy allow for a thoughtful and pragmatic approach to navigating organizational change and leadership development. Orla has become a trusted partner to executives in creating solutions for career and organizational challenges. In addition to individualized coaching Orla is a skilled facilitator working with executive teams to achieve team alignment, resolve conflict and successfully lead their organizations through change. Orla specializes in working with leaders to enhance executive presence, improve communication, navigate inter-personal issues and create followership through building trust and credibility.

Orla received her accounting and consulting training at Deloitte and went on to hold leadership positions in finance, strategic planning and non-profits both in Ireland and the U.S. Orla is an adoptive mom active in educating herself in the challenges of being a transracial family, a keen advocate for DEI education to provide leaders with concrete, measurable actions to create a more inclusive culture.
Garrett Diamond

Originally from Co. Meath, Garrett has lived in Chicago on and off for nearly 15 years. A DIT hospitality and Tourism Graduate, Garrett initially spent a number of years in the hotel and bar business in Chicago. He is now working as a Sales and Business Development Representative for Stuart Dean Company in Facilities Services. Garrett spends his time living in Oak Park with his wife Katie and three children, Ciara, Liam and Fiona. He also is a member of the local AOH Chicago Branch.
Ken Dooley

A native of Ireland, Ken received a degree in business and finance from Trinity College, Dublin. Ken spent several years in the English and Irish Banking industry prior to immigrating to Chicago in 1994. After a number of years working in banking, Ken made the transition into real estate in 2000 and is one of Chicago's most sought after real estate professionals–consistently ranked among the top 1% of Brokers for closed transactions by the Chicago Association of Realtors.
Imelda Gallagher

Imelda grew up in Galway and lived in Dublin qualifying as a Barrister before returning to her native Chicago. She is a Project Manager, PMP, specializing in building fiber networks nationally. Imelda served on the IN Committee for over 10 years and as IN President before becoming an IN Advisory Board Member.
Edward Galvin

Edward has been involved with IN at different times over his past 20 years in the US. A Vice President at Visa, Edward is responsible for North America commercial payments sales and business development. Edward is involved in many other diaspora related communities. He is the President of the Chicago Irish Film festival and has also been involved in the revival of the Chicago Cork Association creating more community in the mid-west area.
Acting Consul General Sarah Keating

Sarah was born in Limerick, Ireland and obtained an undergraduate degree in Law and Irish from University College Cork and a Masters of Law from the University of Limerick. Sarah joined the Department of Foreign Affairs and Trade in 2017, where her firstassignment was to the Human Rights Unit, serving as the Irish Delegate to the EUWorking Party on Human Rights. Serving as Vice Consul in Chicago since 2019, Sarah recently took up the position of Acting Consul General. Before her move to the Consulate, Sarah had never visited the Midwest, although she previously completed a J1 in Boston and has family based in the US, mainly on the East coast.
Brian Moore

Brian has been a member of the Ireland Network since its inception and is a past president. He works in Corporate Finance at Exelon (parent company of ComEd) and lives with his wife Sheila, in Lincoln Park and they have three children Dylan (23), Julia (20) and Olivia (18).
Denis Neville

Denis Neville, M.Sc. in Food Science and Technology from University College Cork, is the founder and CEO of CoreFX Ingredients LLC. Denis has led commercial and technical development roles in the international food and beverage industries for over 24 years. Denis' business philosophy is built around thought leadership and purpose-based management, always growing through creativity and innovation. CoreFX specializes in the development of disruptive, turnkey "Health through Nutrition" ingredient solutions that nourish and nurture bodies and minds.
Donal O'Brien

Donal O'Brien was born and raised in Dublin, Ireland. He attended University College Dublin before emigrating to the United States. He is a partner at the law firm of Bryan Cave Leigton Paiser, LLP where he focuses on mergers and acquisitions and corporate law. He also teaches corporate law at Loyola University Chicago, School of Law.
James Sheehan

Past President of the Ireland Network, James is originally from Dublin and has been living in Chicago for 21 years. He is a member of the Chicago Association of Realtors and works closely with many of Chicago's top developers on new construction projects throughout the city. Currently residing in Lincoln Square with his wife Adrianna, and two children John Oliver and Catalina Sophia.
Garrett Sheridan

Garrett Sheridan is President of Axiom Consulting Partners and specializes in working with leaders to develop and execute strategies that drive profitable growth and improve execution. Originally from Dublin, Garrett is a founding member of the Ireland Network.
Niamh Whelan-Reiter

Niamh leads North America Marketing at Avanade where bringing focus, creativity and the art of storytelling to help drive growth and business results. With a 25+ career that spans Ireland, France and the United States, Niamh is passionate about helping organizations tap into the power of marketing and communications to drive brand awareness, business value and results. Holds a BS in Business & Marketing Management from Trinity College Dublin.
The part-time Executive Director leads communications and membership engagement strategies to ensure the professional development and organizational growth of Ireland Network Chicago.
Margaret Rose Keating Mungari

Margaret has been a member of INC for 10 years prior to her appointment as Executive Director. She is the second executive director in the 20-year history of the Chicago chapter.

Margaret is an executive support professional specializing in strategic communications, programming and thought leadership with proven success across public, private and non-profit sectors. Her career includes positions in Municipal Government, the Chicagoland Chamber of Commerce and American Airlines. She holds a bachelor's degree in Fine Arts from the University of Illinois at Chicago. Margaret also represented Chicago in the 2012 International Rose of Tralee Festival.

Margaret is married to her husband Nick and lives in the Chicagoland area with their two children, Rose and Nicholas, and is a proud first-generation Irish American.

Contact Margaret directly here.